By MetroNews Staff in News | September 27, 2019 at 9:54AM
WASHINGTON, D.C. — President Donald Trump gave high praise to U.S. Senator Shelley Moore Capito (R-W.Va.) on Thursday evening.
Following the Senate Appropriations Committee approving a $70 billion FY2020 Homeland Security Funding Bill led by Capito, Trump tweeted about Capito's work in Congress on border security.
"No one has done more behind the scenes for STRONG BORDER SECURITY than @SenCapito. Her bill passed Committee today with $5B for the BORDER WALL. West Virginia is a great State and Shelley gets it done. Keep it up!"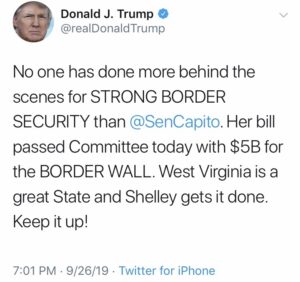 Capito, chairman of the Senate Appropriations Subcommittee on Homeland Security, led the 17 to 14 passage for the $70.7 billion bill which includes investments in border security, cybersecurity, aviation security, state and local grants, and other programs to improve national security and keep Americans safe. The bill fully funds President Trump's $5 billion request for a border wall system.
"We advanced very strong legislation today that addresses important Homeland Security needs, providing the department the resources necessary to carry out a broad set of critical missions," Capito said in a released statement.
"From securing our borders and combatting terrorism to improving cybersecurity and responding to natural disasters, this legislation funds priorities that affect the lives of nearly every American. I'm especially proud of everything this bill does to strengthen our borders—including fully funding President Trump's $5 billion request for the border wall system. I will continue to advocate for this carefully and thoughtfully crafted legislation and hope the full Senate will consider it soon."
The bill provides Immigration and Customs Enforcement with the detention capacity needed to enforce immigration laws and recommends greater support for the operations of the U.S. Coast Guard, a release said.
Other highlights of the bill include $53.18 billion in base discretionary funding to fund Department of Homeland Security missions, increased funding by $10 million for Customs and Border Protection's program activities at the Advanced Training Center in Harpers Ferry and FEMA grants funded at $2.7 billion.